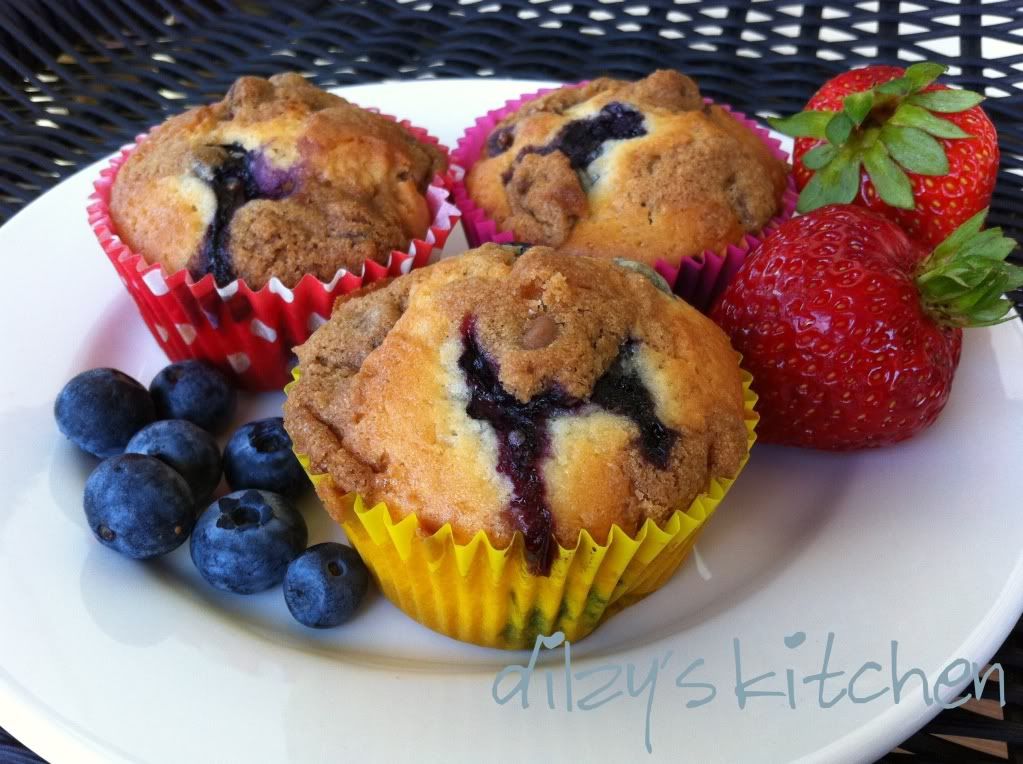 These muffins are called "To Die for Blueberry Muffins", and you know what? it's really truly the best blueberry muffin recipe that I have come across to date! I think what sets this recipe apart from the others is the wonderful crumbly topping.
I found the recipe off
All Recipes
, however, as usual I modified the recipe. I did this by adding chocolate chips and reducing the sugar content.
To Die for Blueberry Muffins, with Choc Chip Streusel Topping
adapted from
All Recipes,
makes 12 large muffins.
Ingredients
1 1/2 cups plain flour
3/4 cup white sugar (I put less than 3/4 cup, something like 1/2 cup + 2 tablespoons)
1/2 teaspoon salt
2 teaspoons baking powder
1/3 cup vegetable oil
1 egg
1/3 cup milk
1 cup fresh blueberries
1/2 cup white sugar (I used brown sugar instead and only put in 1/3 cup)
1/3 cup plain flour
1/4 cup butter, cubed
1 1/2 teaspoons ground cinnamon
1/2 cup choc chips (a very full 1/2 cup that is) - (half will go in batter and the other half to go into the topping)
Method
Preheat oven to 200 degrees C. Line muffin tray with muffin liners.

Combine 1 1/2 cups flour, 3/4 cup sugar (I used less), salt and baking powder.

Place vegetable oil into a 1 cup measuring cup; add the egg and enough milk to fill the cup. Mix this with flour mixture.

Fold in blueberries. Fold in half the chocolate chips which would be 1/4 cup worth. The rest of the chocolate chips will go in the topping.

Fill muffin cups 3/4 of the way, I don't want mine to spill over the muffin liner, and there really is only enough batter to make 12 muffins so divide as evenly as possible.

sprinkle with crumb topping mixture or otherwise called streusel

To Make Crumb Topping: Mix together 1/2 cup sugar (I used 1/3 cup), 1/3 cup flour, 1/4 cup butter, 1/4 cup chocolate chips and 1 1/2 teaspoons cinnamon.Mix with fork (I used fingers), and sprinkle over muffins before baking. Note: If you want more crumb topping, then stick to the original measurements. I found when I reduced the

Bake for 20 to 25 minutes in the preheated oven, or until done.